This
post
was originally published on
this site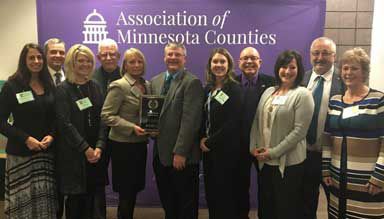 Accepting the 2017 Association of Minnesota Counties (AMC) County Achievement Award on behalf of the Morrison County Prescription Drug Abuse Initiative were (from left): Sheila Watercott, Mike LeMieur, Kathy Lange, Mike Wilson, Nicole Kern, Brad Vold, Penny Pesta, Jeff Jelinski, Deb Gruber, Randy Winscher and Leota Lind.
The Morrison County Prescription Drug Abuse Reduction Initiative continues to receive accolades, including most recently being named the 2017 Association of Minnesota Counties (AMC) County Achievement Award. The award was presented at the 2017 AMC annual conference, Dec. 4, in St. Cloud.
The highly collaborative initiative, which involves a wide range of community partners throughout Morrison County, was recognized for the team's efforts to reduce opioid abuse in the county. Partners include CHI St. Gabriel's Health and its primary care clinic Family Medical Center, Morrison County Social Services, Morrison County Public Health, local pharmacies, law enforcement, South Country Health Alliance and several other collaborators.
Family Medical Center primary care providers — Dr. Heather Bell and Dr. Kurt DeVine — are physician champions for the initiative. In the past 18 months, the project has been recognized with several state and national awards, including being named the Minnesota Rural Health Team of the Year and more recently receiving the American Hospital Association's NOVA award, one of five such recipients in the entire nation.
In addition to the awards, the project has received multiple grants from federal and state government-funded agencies, due to the support of several Minnesota representatives and senators at the U.S. Capitol in Washington, D.C., and state legislators in St. Paul. Recently, the project was awarded more than $1 million in state funding to bring this highly-regarded project to additional communities throughout Minnesota.
Several partners in the initiative, including members of the care team, were on hand to accept the award at the AMC annual conference.
To learn more about the prescription drug abuse reduction initiative, contact CHI St. Gabriel's Health, at (320) 631-5624.